Welcome to MMOnline, an excellent music education resource for adults looking to support children with their Early Years Music development. You can take your little one on a musical journey, online, when it works for you, anytime, anywhere. 
The material found on MMOnline aims to establish confidence in both the adult and child to lay strong foundations in a child's Musical learning, whilst also being great fun!
"We are all born musical. Babies begin developing musical abilities and interest in the womb and, from then on, their musical development is nurtured by the adults around them... given the right support and opportunities, young children quickly gain a deep, subconscious understanding of musical concepts and skills" (Neilson 2016)
There is access to a catalogue of Musical Miniatures classes where parents and children can take part in a 30min instructor led session - resources required are indicated in the supporting text along with arts and crafts ideas for those looking for extra activities to entertain and support their child's development. These classes will be updated fortnightly
The library of songs and rhymes includes carefully selected material from which basic music skills and concepts are derived. There is guidance to support adults to adapt the material to suit their child's age and ability, as well as videos to sing along to.
A range of musical instruments are showcased in the pre-recorded classes, in 'Welcome to the instruments' there are videos created to enable users to learn more about these instruments and hear some contrasting music to move and dance too.
In our opinion, Music itself is intrinsically valuable to everyone and brings a great deal of joy to babies and children. Music is also a fantastic vehicle for learning, supporting
Developments in speech,
The ability to focus and listen,
Physical development (physical coordination, spatial awareness, balance skills, gross motor and loco motor skills)
Numeracy skills
Language development (imitating sounds they hear – increased vocabulary e.g. numbers, colours, Days of the week, months of the year).
Social Interaction skills – whether this be carer-baby exchanging coos or 2 or more children making music with pots, pans or traditional instruments.
The building of confidence.
Expressing of feelings - children can learn to moderate, express and reflect Upon their emotions through musical activity.
MMOnline lays great foundations for learning and provides an excellent start for your child's musical development. Whether you attend a weekly music class near you, or your irregular working hours/nap schedules /general demands on your time mean you don't, MMOnline is here for you. The material used is borrowed from Musical Miniatures live classes and is designed to stretch the minds of 0-5 year olds. I hope you'll have some fun along the way too!!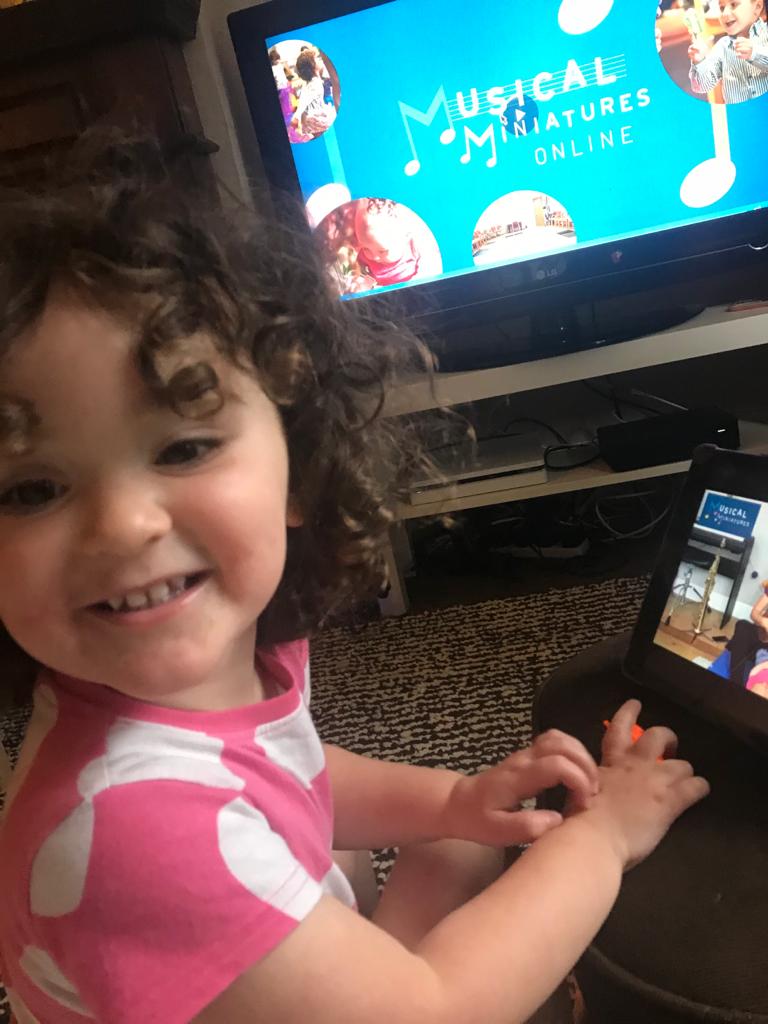 What do people think of MMOnline online?
 "The online classes are really good. My daughter watches the recordings multiple times. I would really recommend this, Jenny's content is excellent and the online version is really high quality! Good to keep a range of ages entertained"
Rachel (3yo & under 1)
"They had loads of fun doing the action songs, listening to the clarinet, dancing with scarves and playing with finger puppets. The baby especially loved the floating scarves... "
Laura - (4yo and 1yo)
"I felt compelled to let you know just how much my nearly 2 year old son enjoyed your class tonight!!! He was hooked from beginning to end... singing, dancing, playing his instruments. When it finished he said "again"... Also as a Reception teacher, your videos would be perfect for my class!"
Emily (nearly 2yo)
"Highly recommend MMOnline... My son has attended (Musical Miniatures classes) since he was tiny. He's learning to speak and has names for his immediate family, and Jenny so far. He also picked MMOnline over Zog - both huge compliments!"
Hannah (2yo and under 1)
"Must admit I was sceptical as it's been over a year since we went to a (Musical Miniatures) class, but the four year old loves it and my 16mth old wants in on the action too"
Hannah (4yo and 1yo)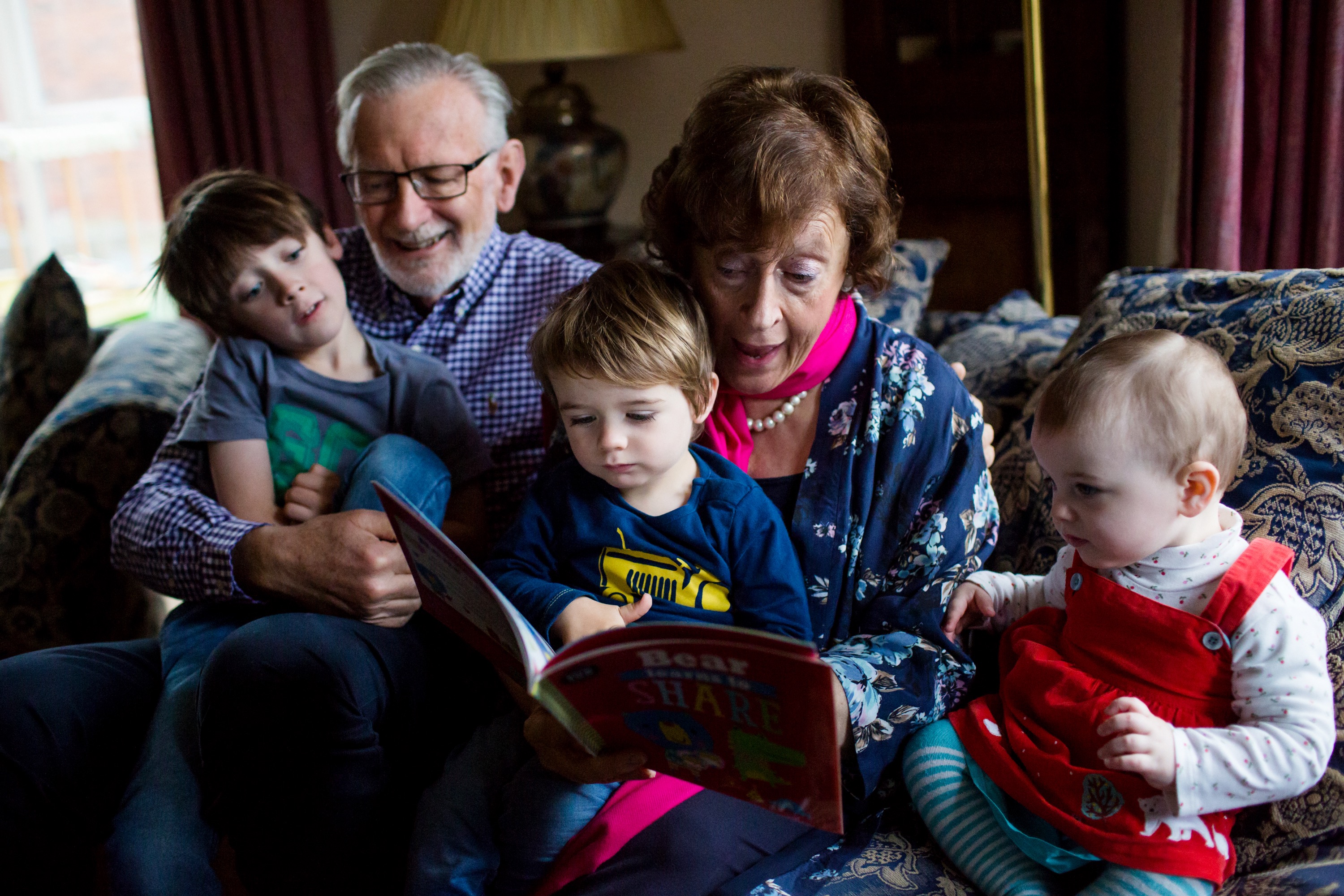 Musical Miniatures online as a gift.
Whether you're a Parent, Grandparent, Uncle, Aunty or Friend, it can be really difficult to know what to purchase as a Birthday or Christmas gift for children.
Grandparents, perhaps you help out with childcare and find it difficult to leave the house with everyone in tow, and are looking for something to do with your grandchildren at home.
Investing in a childs Early Years Music education through MMOnline could be a perfect choice.
Please visit out online shop to purchase a gift voucher
Hi, I'm Jenny, mother to 3 wonderful daughters, an experienced musician and educator, and founder of Musical Miniatures.
As a qualified teacher and musician I have taught in EYs, Primary and Secondary settings. I have trained with the BKA (British Kodaly Association), and currently work as a mentor with Sound Connection's London Early Years Music Network.
I am really pleased to be able to provide an online resource to enable parents to extend their babies and children musical learning from the comfort of their own homes. I am also delighted to have the opportunity to widen the Musical Miniatures family.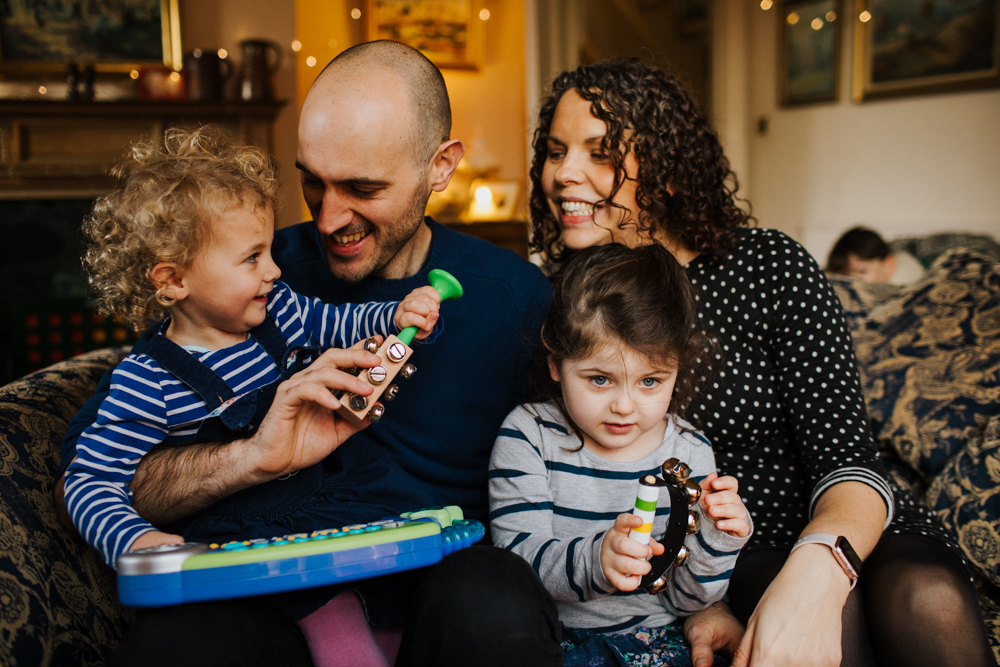 What can I expect from a Musical Miniatures class? Here's a little taster...